Who We Are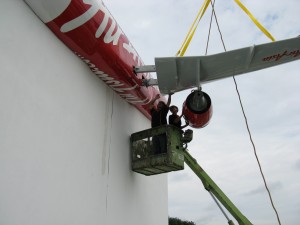 Our founding principles and strengths
Astro Sign Gallery, or ASG for short, was established in the 1st quarter of 1997. Its primary focus, the design and manufacture of signage. Its core values, QUALITY, PROFESSIONALISM and INTEGRITY.
In a scant few years we have built an enviable record both in projects to date and our client list which ranges from sporting venues to science centers. All of whom we have worked with not as mere suppliers but as working partners towards the realization of common objectives.
Today, ASG is much more than just a sign company, offering signage consultancy design and manufacture, yes but also having the capacity to design and manufacture custom architectural fittings, lighting and even sculptures. All to the highest quality STANDARD known, ISO9001 : 2008 to which we are fully certified and have been since 2005.
What we have undertaken
Our works to date have encompassed an extremely broad spectrum, a reflection of our vision, design and engineering capabilities and our manufacturing strengths. We have, for instance, undertaken the design, fabrication, delivery and installation of a roof top skysign which has been listed as the largest sign in the country whilst also doing little commemorative plaques for artists.
A freestanding column sign for our National Multimedia Centre required a unique approach to it's structural requirements which we were well up to. And when our National Oil Company wished a Science sculpture representing key Hydrocarbon molecules related to their industry, they turned to us to fabricate deliver and install it to their exacting standards. To cap off our best work, the Universal Studios Theme Park in Singapore, where we were called on to Fabricate, Deliver and install the key signs to this Amazing Destination.
Our Vision
Has always been to be not just the best but to continually progress and raise the bar. While offering our services with intellect and empathy to our clients wants and needs. The last something that appears to be lacking in industries that view clients as a resource to be exploited instead of being served.