We are a fully integrated Design, Engineering and build facility. Our up to date modern plant is equipped with the latest and best equipment of its kind ranging from CNC benders and guillotines to 3 axis computer numerically controlled milling centers and Lasers. This allows us t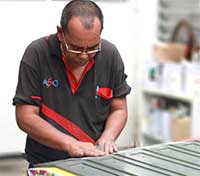 o bring a level of Quality, Precision and detail to our work that is unparalleled.
The above manufacturing is coupled to the largest sealed paint booth in the industry, with which we can apply specialty finishes such as high end acrylic urethane coatings to the highest standards of weatherability and safety. This to the deepest of glosses or the most subtle of satin finishes to any and all work, a key quality in any finished sign or sculpture.

 Our Studio
Our design studios can render and animate 3D visuals for evaluation and subsequently issue CAD drawings for production direct to our milling and laser centers, a key strength in an industry accustomed to blowing up drawings with overhead projectors and handwriting text and logos. All on the latest, most powerful workstations and Design software.
 Our Team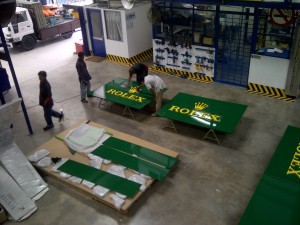 Our people are at the heart of everything we do at ASG. The success of every project is determined by the team who work on and alongside it. As well as training and developing our existing workforce we believe the continual recruitment and retention of high caliber individuals will help us get to where we want to be.
The majority of our projects focuses on skilled tradesmen, designers and commercial staff however equally important to our business are the support roles in Finance and Admin teams of people who ensure that our projects are supported and executed effectively.